Distinguished Speaker Interviews
The ESHG Award and the Mendel Lecturers have talked to Mary Rice.
Sir Mike Stratton, ESHG Award Lecturer 2014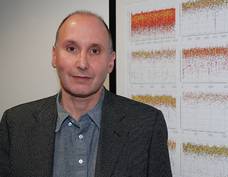 <i>Sir Mike Stratton</i>
Professor Sir Mike Stratton is the Director of the Wellcome Trust Sanger Institute, Cambridge, UK. He will be giving the ESHG Award Lecture 2014, on Tuesday, June 3, 2014 at 14.15 hrs. He talked to Mary Rice about his life and work.
Mike Stratton acquired his first chemistry set at the age of eight. "I messed around with it a lot, sometimes dangerously. Then, as a teenager, I became enthralled by the amazing stories that science could tell and the sometimes oblique ways of reconstructing them from the fragments of observation available to us. As an example, at age 17 I remember recounting to my girlfriend (and future wife) the extraordinary observation of the double membrane that encompasses each mitochondrion and how this revealed that mitochondria were originally bacteria that had entered into a symbiotic relationship with a host cell, the double membrane being the visible, extant relic of this ancient marriage of convenience."
A fascination with all things old remains to this day. If Stratton had not become a medical scientist, he would have liked to have been an archaeologist, and he is intensely interested in the history of ancient civilisations. His parents wanted him to become a doctor or lawyer, and supported his interest in science as a route into clinical medicine. He had always intended to go into medical research in order to explore mechanisms of disease more closely, and this led to a decision to move into histopathology.
"Peering into the hidden world of diseased tissues provides you with profound insights into the way in which disease is generated. But although I found pathology inspiring, it was still somewhat removed from the real action", he says. Studying the pathology of tumours proved to be the turning point in his career. "I could not imagine a more direct search for the causes of disease than looking down a microscope at the diverse patterns of abnormal cell proliferation in cancer and speculating on the invisible abnormalities of DNA that were responsible for them."
As a result, in 1984 he moved to the Institute of Cancer Research to do a PhD using the new techniques in recombinant DNA technology to explore the genetics of cancer. "I was hooked on cancer genetics from this point. "It has become a matter of almost mystical fascination to me that you can look down a microscope and see the misbehaving cells of a tumour, and then delve into their nuclei to pick out, from the thousands of millions of bases of DNA, the few that are mutated and cause the abnormal proliferation."
This fascination with discovery remains, although, says Stratton, the balance between science and science administration is gently shifting towards the latter as the years pass. "I treasure all the discoveries I have been involved in. Chipping away at nature's forbidding rock-face is a daunting but engaging challenge. I enjoy pitting human imagination and intellect against the cryptic organisation of the natural world and, of course, those rare but memorable moments of epiphany and revelation; I treasure the collective experience of working with a team and collaborators to make discoveries; and of course I treasure the discoveries for themselves, for the insights they provide and for their ramifications towards human benefit. "
Outside science, in addition to his interest in ancient civilisations, he enjoys doing The Times crossword, walking, cooking and listening to jazz. And history will rear its head again in his talk to the conference, he says. "I will be telling ESHG how analysis of the genomes of cancer cells can be used as "fossil records" of the causes of cancer."
Mario Capecchi, Mendel Lecturer 2014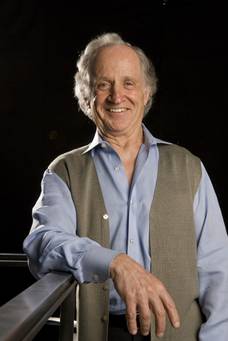 <i>Mario Capecchi</i>
Mario Capecchi is Distinguished Professor of Human Genetics and Biology at the University of Utah School of Medicine, Salt Lake City, USA, and an Investigator at the Howard Hughes Medical Institute. He will be giving the Mendel lecture on Tuesday 3 June at 13:30 hrs. He talked to Mary Rice about his life and work.
Mario Capecchi is a long way from being in the usual mould of a Nobel Prize winner. Far from becoming excited about science by being given a chemistry set when he was five, he spent the first nine years of his life moving from one disaster to the next. Born in Verona, Italy, in 1937, his mother was deported to a camp in Germany when he was three, having previously made arrangements for him to be looked after by a family of peasant farmers. But after a year the money ran out and he spent the next few years roaming the country either in orphanages or running wild on the streets. "I didn't go to school or learn to read or write until I was nine," he remembers.
On his ninth birthday his mother, returned from imprisonment, found him in hospital and nearly dead from malnutrition. Once he recovered, they set sail for the US and lived with Edward Ramberg, his mother's younger brother and a brilliant physicist, and his wife. They sent him to school, where his first task was to learn English. "I was a good, but not serious, student," he says. "Learning came easily to me."
He then moved to Antioch College, Ohio, to start his studies in political science, but soon became disappointed in the lack of science involved in the discipline, so switched to physical sciences. The innovative work-study programme at Antioch meant that every three months students went off to a new city for work experience, and one quarter Capecchi found himself at MIT, where he encountered molecular biology for the first time. "Everything was new, there were no limitations, and there was such enthusiasm," he recalls. He was hooked, so after Antioch he set off for the Mecca of molecular biology – Harvard – to start work with James Watson.
"Watson was my mentor. He taught me the process of science – how to extract questions that are critical in a field and are also susceptible to being answered by modern technology. His bravado inspired self-confidence in us, and his honesty made our search for truth uncompromising," Capecchi says. From Watson's laboratory, he joined the faculty in the Department of Biochemistry at Harvard Medical School, across the river in Boston, and stayed there for four years before deciding to go to Utah. "I moved quickly through the ranks at Harvard, but it wasn't what I was looking for. There were excellent scientists there, but each department was an island in itself and there was little synergy. So in 1973 I decided to go to the University of Utah to join a newly formed department that was being put together by Karl G. Lark, a very talented scientist and administrator," he says.
Clearly this was the right choice, because he has remained at Utah ever since, and in 2007, together with Martin Evans and Oliver Smithies, he received the Nobel Prize for 'the discovery of principles for introducing specific gene modifications in mice by the use of embryonic stem cells'. That pioneering work has led to the development of many thousands of knock-out and knock-in mice, but his first grant application in this field was refused because the technique was thought to be impossible. Perhaps the persistence and resourcefulness developed in his childhood played a role here, because he subsequently got funding for the work and opened a new era in genetics. "I think my childhood experiences developed a drive to keep myself, maintain myself, and survive. I think it led me to be able to use my own resources, to be able to get through life. And, strange as it may sound, I think now I'm also very grateful for what happened to me when I was young."
He will tell the conference about mouse models for human sarcomas and the OCD spectrum disorder trichotillomania, and perhaps also something about the immense role of the resourcefulness of the human spirit in the drive for discovery.