Programme
Last update: May 3, 2015
Please note that the programme, titles and speakers are subject to alteration.
Click on the dates to access the detailed programme.
Programme Planner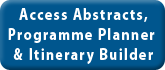 The Programme Planner and Itinerary Builder enables you:

- to view all sessions, meetings, rooms...
- to search programme and abstracts by abstract title, author(s), keywords, institutions and text
- to view abstract text (as of May 22)
- to browse and view all sessions
- to pick papers or entire sessions and to add them to your personal itinerary through the meeting. This itinerary can be printed and/or downloaded to a mobile device.
Access the programme planner and itinerary builder.
Note: Most of the conference abstracts are freely available and can be reported from the time they appear on this website. Any abstracts that will form part of the media programme will not be published until the day of their presentation and will be embargoed to that date. Embargo dates and times are given on the press releases and should be adhered to. When asking for outside comment on releases before the embargo has lifted, journalists are requested to ensure that those consulted understand and accept the embargo conditions.
Programme at a Glance - Saturday & Sunday (click on the days below for details)
Time

Time

08.30

Registration opens

08.30

Symposia S01-S04
S01. Big Data Genomics & Human Knock-outs
S02. ESHG-ASHG Building Bridges Symposium: Genetic testing in Children
S03. Epigenetic Basis of Disease
S04. Spliceosome-opathies

Educational Session ES5
ES5. Automating Clinical Genetics

10.00

Coffee Break

10.30

Educational Sessions ES1-ES4
ES1. CRISPR- Cas9
ES2. From Genes to Networks
ES3. Translational Cancer Genetics
ES4. Care for Rare Diseases

Workshops W01-W02
WS01. A case that changed my life as a clinical geneticists (TEDEx Format)
WS02. Galaxy

Corporate Satellites

10.30

Poster Viewing with Authors

11.45

Free Poster viewing - Lunch

Educational Session ES6
ES6. My vision on Genomic medicine

Corporate Satellites

13.15

Break

12.00

Lunch Break

13.30

Concurrent Sessions C07 - C12
C07 Reproductive Genetics
C08 Integrative OMICS approaches in common traits
C09 Genetic susceptibility to cancer development
C10 Neurogenetic disorders
C11 Skeletal disorders
C12 Sensory disorders

14.00

Welcoming Addresses - Opening

15.00

Vitamin Break

14.30

Opening Plenary Session 1

15.30

Workshops W03-W09
WS03. NGS in the clinic
WS04. Dysmorphology 1
WS05. Pre-conceptioncarrier testing
WS06. Blurred boundaries between clinic and research
WS07: European Board of Medical Genetics: What can we do to facilitate you to become a registered genetic professional?
WS08. Ensembl Highlights: What's New in Accessing our Genomes?
WS09.Global Alliance for Genomics and Health

Corporate Satellites

16.00

Vitamin Break

16.30

Plenary Session 2 - Highlights What's new?
from submitted abstracts

18.00

Coffee Break

17.00

Coffee Break

18.30

Concurrent Sessions C01 - C06
C01 NIPT
C02 Improvement in genome sequencing and functional studies
C03 Novel genes causing intellectual disability
C04 The many faces of cancer mutations
C05 Cardiovascular disorders
C06 Neuromuscular disorders

17.30

Symposia S05-S08
S05. Reproductive genetics & "chromosome therapy"
S06. International data sharing initiatives
S07. Telomeres in Human Disease
S08. Mouse Phenotyping for clinical research

Educational Session ES7
ES7. Imprinting-related Disorders

19.00

ESHG Membership Meeting

Corporate
Satellites

20.00
-
21.30

Networking Mixer
at the Science Center

20:30
Programme at a Glance - Monday & Tuesday (click on the days below for details)
Time

Time

08.30

Symposia S09-S12
S09. Evolution of the cancer genome: Clinical implications
S10. From rare to common variants in cardiovascular diseases (joint with ESC)
S11. Non-coding DNA & human disease
S12. Mitochondria & Genetic Disease

Educational Session ES8
ES8. Palliative of Genetic Conditions

09.00

Plenary Session 3
PL3. Interactive Debate - Should all geneticists have their genome sequenced?

10.00

Coffee Break

10.30

Poster Viewing
with Authors

10.30

Coffee Break

11.00

Concurrent Sessions C19 - C24
C19 Diagnostic NGS
C20 Current issues in genet(h)ics
C21 Multiple congenital anomaly syndromes
C22 Statistical genetics and bioinformatics
C23 Movement and motor disorders

11.45

Free Poster viewing - Lunch

Corporate
Satellites

13.15

Break

12.30

Lunch Break

13.30

Concurrent Sessions C13- C18
C13 Fundamental insights in structural genomics
C14 Challenges in genetic counselling
C15 Network and functional analysis in intellectual disability
C16 Growth failure and microcephaly
C17 Epigenetic control of gene expression
C18 Metabolic and renal disorders

13.30

Plenary Session 4
Mendel Lecture

14.15
Plenary Session 5
ESHG Award Lecture
ESHG Education Award
EJHG Nature Awards
Young Investigator Awards
ESHG Poster Awards
Closing

15.00

Vitamin Break

16.00

End of Meeting

15.30

Workshops W10-W16
WS10. Practical Bioinformatics Whole exome sequence analysis
WS11. Dysmorphology 2
WS12. Reproductive genetics
WS13. Clinical Cancer Genetics
WS14. Copy Number Variant Interpretation and Classification
WS15: Genome Browser UCSC
WS16: Research, clinic and everyday life: new roles for patients and citizens

Corporate
Satellites

17.00

Coffee Break

17.30

Symposia S13-S16
S13. Therapeutic Strategies for Genetic Diseases
S14. Somatic Mutation Detection & Interpretation
S15. Evolution and Disease
S16. Genome Regulation

Educational Session ES9
ES9. Mutation Prediction Tools

20:30

Networking Party
Plenary Sessions
Concurrent Symposia
Educational Sessions
Concurrent Sessions
Workshops
Poster viewing
with Authors
Corporate Satellites