The Biological Future of Man. Continuities and Break in the History of Human Genetics before and after 1945.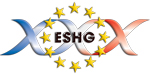 June 21-23, 2012, Nürnberg
EuroGentest Satellite meeting on Innovative Techniques in Genome Diagnostics'

Monday, June 25, 2012, 11:40 - 13:10 hrs, St.Petersburg
Disclaimer
Ancillary and satellite meetings shall not state or imply endorsement of, or support by the ESHG of the event, organiser, products or services presented in any verbal statements or printed/electronic media before, after and during the presentations.