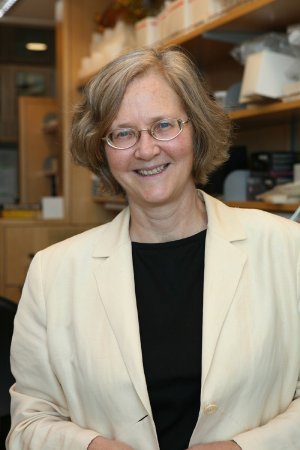 Dr. Elizabeth Blackburn is the Morris Herzstein Professor in Biology and Physiology in the Department of Biochemistry and Biophysics at the University of California, San Francisco. She will be giving the European Mendel Lecture at ESHG 2011 on Tuesday May 31 at 13.15. She talked to Mary Rice about her early days in science and her recent work.

Elizabeth Blackburn always wanted to do scientific research, she says. "Although my parents were GPs in Tasmania, so that medicine might have been seen as a natural career for me, it was science and how things worked that always captivated me."

After early studies at the University of Melbourne, Australia, she did a PhD with Fred Sanger in Cambridge. "He was studying sequencing DNA at the time, and in his lab that I noticed that you could map the very ends of DNA molecules. This was hard at that time because back then there was no real DNA sequencing. When I went to Yale to Joe Gall's laboratory, I sequenced the ends of chromosomes, which was a challenge because I had to patch together all the bits of information" she says.

At that time, no-one knew what the ends of chromosomes were like, let alone what molecular functions they might have. However, Blackburn's persistence paid off and at the University of California, Berkeley, a few years later, together with her then-graduate student Carol Greider, she discovered telomerase, the enzyme that protects the telomere, the protective cap at the end of the chromosome. "Telomeres are buffers, like the sips of shoelaces", she says. "If you lose the tips, the laces start to fray. But unlike shoelaces, when telomeres become worn down in cells, telomerase can come in to build them back up."

"Until we discovered telomerase, although we knew that telomeres were very specific structures, nobody knew how they were maintained", she says. Things have changed greatly since. Nowadays many of the diseases of ageing, such as diabetes and cardiovascular disease, can be attributed to deficiencies in telomere replenishment. So is there such a thing as a telomerase pill that older people could take to keep them healthier longer?

Yes and No, says Professor Blackburn. "Rather than take a pill, right now it would be better to try to find a physiological intervention. We know that chronic psychological stress is bad for cells, and our work has proved that such psychological stress actually ages cells. We have been able to see this in our lab by looking at the telomeres from cells of people under chronic stress. What we should be trying to do is to alleviate that stress, either by removing its causes or by some kind of therapy. We have been collaborating with psychologists on this with fascinating results. We find that non-medical interventions such as diet and exercise have beneficial effects on telomere maintenance." She will present some of these new findings in her lecture in Amsterdam.

What about the role of telomeres in cancer? Could it be that that worn down chromosome endings are related to abnormal cells? Mouse and human studies have shown that this is the case, says Blackburn. As a normal cell divides more and more often, its telomeres become very short, and once they become too short its genome can be unstable, promoting cancer. On the other hand, in malignant cancer cells telomerase is over-active and prevents this shortening, so telomerase could be an important target for anti-cancer drugs.

With all of this potential for her discovery, it's hardly surprising that Elizabeth Blackburn was awarded a Nobel Prize for Medicine in 2009. "The day of the award ceremony it was thrilling, but as a researcher your greatest prize is finding things out. The day that I discovered the structure of telomeres, and that when we found a new enzyme, are probably still the most exciting times of my life."

Blackburn has had some other exciting times in her life. In 2001, she was appointed to the then President George W. Bush's "˜President's Council on Bioethics'. "I was invited to join not too long after 9/11", she says, "and I wanted to do something to help. I thought that my knowledge of cell biology could be useful to the country." But she soon found out that the Council had a pre-ordained political agenda. "I was always saying - let's look at the science", she says "but my persistence in trying to steer them towards an objective view of issues made me unpopular."

Her opposition to the Bush administration's highly restrictive policy on stem cell research led to her dismissal from the Council in 2004. "I didn't feel martyred", she said of her dismissal, "rather I wore it as a badge of honour."

She later described her experiences in an invited essay in the New England Journal of Medicine. "There is a growing sense that scientific research - which, after all, is defined by the quest for truth - is being manipulated for political ends. There is evidence that such manipulation is being achieved through the stacking of the membership of advisory bodies and through the delay and misrepresentation of their reports. As a naturalised citizen of the United States, I have an immigrant's love for my country. But our country must not fail us. Scientific advice should and must be protected from the influence of politics," she said.
Will Professor Blackburn be using the fruits of her discovery to live to a great age? "Rather than just live to 150, I would prefer to stay healthy until I'm 90", she says. "What we need to do is to protect our telomeres during the years that they are at their most susceptible - as we get older - and then we can die by just falling off our perches, as we seem genetically programmed to do. That way we can avoid the prolonged morbidity during our middle and later years which is the real bane of ageing today.""
Applying "˜good science' to her own life - exercising regularly, eating a healthy diet, and trying to cope with stress - it seems unlikely that Elizabeth Blackburn will be falling off her perch in the near future, rather that she will continue to come up with significant discoveries of benefit to us all.


GertJan van Ommen, ESHG Award Holder 2011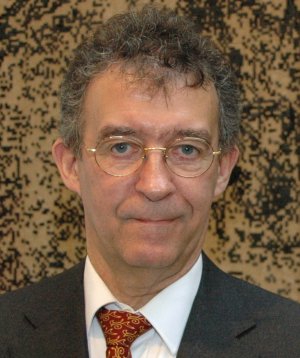 Professor Gert-Jan van Ommen is head of the Department of Human Genetics of Leiden University Medical Centre (LUMC), The Netherlands and founder of the Leiden Genome Technology Centre (LGTC). He will be giving the the ESHG Award lecture at ESHG 2011 on Tuesday May 31 at 14:15 hrs. He talked to Mary Rice about his life and recent work.
Gert-Jan van Ommen enjoys repairs. "I like to look at things, find out what's broken, and then do something about it", he says. This approach continues to inform his scientific work to this day. "I work on RNA which is in fact one of the most reactive molecules in nature, much more than DNA which is a little stiff. It's opened up a whole new field that allows us to interfere in biology in so many ways."

Van Ommen has been interested in science as long as he can remember Early memories of night-time walks with his surgeon father, pondering on what you looked at in the space between two stars, led on to experiments with a chemistry set carried out with a neighbour boy. "I was mainly interested in chemistry - I liked it more than physics because matter really changes. This led on to biochemistry, where I found out about DNA and the code of life. This was absolutely fascinating and there wasn't anything else that I wanted to do."

He undertook all his studies in Amsterdam, where he still lives, while he has worked in Leiden for 27 years. "I tell visiting scientists that I've never lived more than twenty minutes by foot from where I was born. Scientists from The Netherlands tend to get criticised because they are less mobile - but you have to project that against the size of the country. If you go in one direction or another you're never too far away anyhow. That's not to say that I haven't worked abroad - in the States, for example - but never for longer than two months. I've never been away for a long period.

"It's good in some ways, but when you sit on committees you see how seriously people nowadays take the fact that young scientists need to have had a varied work experience. And I agree with them - I encourage my students to work abroad. In hindsight, that's a thing that I should have liked to do myself, I just never made the time", he says.

But it hasn't hindered his career at all, and indeed, working in a smaller European country may have helped it branch off into an unusual sideline. "From 1968 to 1974 I was a rock and roll critic for a national newspaper. I've interviewed most of the big stars of the time - Frank Zappa, Randy Newman, Lou Reed, Jerry Lee Lewis, The Eagles. In my contacts with people from the US I often knew more about the different types of music at the time than Americans did. We could see better the perspective between, for example, West Coast and East Coast, country music and rock, whereas as an American you either liked or hated country music, or you hated West Coast music. It was all much more black and white, so I think by writing and reading about it all I had a pretty good grasp of American and also British society, because pop music is basically a reflection of the culture of a society."

Although van Ommen has stayed in one place almost all his life, he is proud of the fact that he has encouraged large groups of people to work together, both inside and outside The Netherlands. "So many people have complementary skills, but sometimes in national science policy they are too busy making people compete and forget how much more you can achieve jointly with a large group of people, especially in the science of today. I enjoy trying to get these groups of people to work together."

An example of his success in this field is a recent paper published in the New England Journal of Medicine, where, with 18 colleagues, he describes the therapeutic effect of administering an antisense oligonucleotide that induces exon skipping during mRNA splicing in patients with Duchenne's muscular dystrophy. He's proudest of this work and other work on exon skipping, he says. "The problem with RNA was always that it was very hard to discover what it was doing because it was extraordinarily unstable. It took next generation sequencing to find out that with interfering with RNA we may have turned a new page in therapeutics."

But what can you do with exon skipping? "When people ask me this, I ask "what can't you do", he says. "We can use it for interfering in biological processes like moving proteins around and blocking signals. The interesting thing about antisense RNA relative to RNAi is that you can tweak its activity more precisely, rather than just destroying it, and thereby regulate many different processes. That's what I'll be talking to the conference about."

What other benefits could there be from next generation sequencing? "That's a question some people tend to ask and it means they're not looking around. When I'm asked this I show a slide that is totally unreadable, but shows the table of contents of last July's American Journal of Human Genetics. About half the papers in it were discoveries of new human disease genes. All these discoveries mean first of all immediate diagnostics, and second, a new perspective for developing therapies - and sometimes immediate therapy as well, because in some cases the intervention is as simple as supplying or suppressing some sort of metabolite.

"The irony of this story is that the rare disease community is the first community that is benefiting in a major way from next generation sequencing, because it's going to take a long time before the common diseases are at the same stage. And it's precisely this rare disease community that has been the most vocal in complaining that there was far too much money being invested in huge genomics groups and they were left behind because they were considered too small and uninteresting; What we are now seeing is that the American and the Europeans are starting joint programmes to tackle rare diseases with next generation sequencing", he says.

The pharma industry is getting interested in rare diseases, too. "Duchenne is a case in point, where we're working with GSK on the clinical trials. They went into it because they thought that exon skipping was a very promising platform for the future. Now many pharma companies are scrambling to get into the rare disease field. Look at Genzyme - purely a rare disease company, and it's recently been bought by Sanofi for more than $20 billion. So the penny has dropped that therapies for rare diseases are achievable, and I think that is only the beginning. You don't need to be a rocket scientist to think that prenatal diagnosis is going to be very different ten years from now. Clinical genetics is one of the rare fields that ultimately ought to be capable of translating all the unclear findings of next generation sequencing into prognostics. That is, if they rise to the occasion.

With all this excitement going on around him, what will Gert-Jan van Ommen find to keep him occupied in his retirement? "I'm not going to retire", he says. In The Netherlands you have to retire at 65, but although I will give up being head of department I will carry on with a number of things, not least the co-ordination of the country's bio-banking initiative, BBMRI-NL. I won't be sorry to leave the bureaucracy behind, but I am worried that my people may find out what a big burden this all is, because what I've been doing for the past 20 years or so is to try to keep most of the red tape away from them in order not to impair their efficiency. I'll be trying to persuade my successor to keep on doing that.