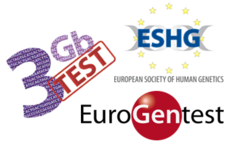 EuroGentest – ESHG and 3Gb-TEST present:

From genetic testing to genome diagnostics:
Quality, clinical utility and counselling issues
Friday, June 5, 2015, SECC - Room Dochart, Glasgow
---
Programme
10:00
Registration and welcome coffee

10:20

Introduction
10:30-11:00
Noninvasive Prenatal DNA Testing anno 2015: an overview
Brigitte Faas, Radboud University Medical Center, Nijmegen, The Netherlands
11:00-11:30
Newborn Screening: delivering a programme not just a test
Jim Bonham, Sheffield Children's NHS Foundation Trust, UK
11:30-12:00
Pre- and Post-test counselling issues in genome diagnostics
Luca Lovrecic, Clinical Institute of Medical Genetics, UMC Ljubljana, Slovenia
12:00-12:30
Quality issues in EQA testing and validation
Nicola Wolstenholme, EMQN, Manchester, UK
12:30-13:30
Lunch
13:30-16:00
Concurrent workshops 1 & 2
(Tea and biscuits served during workshops)
Workshop 1
Prenatal and newborn screening – what could and should we learn from each other?
Coordination: Ros Hastings
1.
Clinical Implementation of NIPT – Technical and Biological Challenges
Nathalie Brison, Laboratory for Cytogenetics and Genome Research, KU Leuven, Belgium
2.
Newborn screening: pretest information, selection of disorders and pilot studies, analytical performance, counselling issues
Moderators:
Viktor Kozich*, Charles University Prague, Czech Republic
Jim Bonham*, Sheffield Children's NHS Foundation Trust, UK
Brian Fowler*, Brian Fowler, University Children's Hospital, Zurich, Switzerland
3.

Genome wide SNP-based array in prenatal diagnosis: data, decisions and discussion points
Nicole de Leeuw, Radboud University Medical Center, Nijmegen, The Netherlands

* ERNDIM Members of Executive Committee and/or Scientific Advisory Board - ERNDIM has given generous financial assistanceto enable ten delegates from their EQA participating laboratories to attend this meeting.
Workshop 2
NGS diagnostics - counselling, clinical utility and costs
Coordination: Bert Bakker
1.
Pre- and post-NGS counselling: ethical and quality issues to consider
Connie van Ravenswaaij, Dept. of Genetics, University Medical Centre Groningen, The Netherlands
2.
Clinical utility of WES/WGS and targeted panels
Hans Scheffer, Department of Human Genetics, Radboud university medical center, Nijmegen, The Netherlands
3.
Evaluating the costs and benefits of new genomic sequencing technologies
Katherine Payne, Manchester Centre for Health Economics, Manchester, UK
16:00

Feedback on workshops

17:00
End of meeting
Registration
Registration Fee: EUR 50.-, includes admission, coffee and lunch breaks.
Pre-registration is now closed.
Onsite registrations will be possible from 09:00 hrs on Friday, June 5, 2015 onwards.