Programme Planner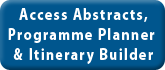 The Programme Planner and Itinerary Builder enables you:

- to view all sessions, meetings, rooms...
- to search programme and abstracts by abstract title, author(s), keywords, institutions and text
- to view abstract text (as of May 22)
- to browse and view all sessions
- to pick papers or entire sessions and to add them to your personal itinerary through the meeting. This itinerary can be printed and/or downloaded to a mobile device.
Access the programme planner and itinerary builder.
Note: Most of the conference abstracts are freely available and can be reported from the time they appear on this website. Any abstracts that will form part of the media programme will not be published until the day of their presentation and will be embargoed to that date. Embargo dates and times are given on the press releases and should be adhered to. When asking for outside comment on releases before the embargo has lifted, journalists are requested to ensure that those consulted understand and accept the embargo conditions.
Please note the following important point for POSTER sessions:
In order for the personalised programme function to work properly in the itinerary builder and the ESHG Conference App, all posters have to be slotted on the day of their discussion (i.e. "05. Poster discussions by day") although they will be on display for the entire conference.
Therefore all poster session numbers carry an "S" (for Sunday) and "M" (for Monday), e.g. PS01 and PM01; PS02 and PM02, etc.
You will find a second poster session type (06. Posters in sequence) that allows you to browse abstracts in the same sequence in which they will be on display in the poster area.
Guidelines for presenters
Please see here for more information on your presentation format.
Notification on Acceptance of submitted Abstracts
Thank you for submitting over 2,200 abstracts to this year's meeting.
Notifications on acceptance have been sent out in the third week of March, 2015. Please contact conference(at)eshg.org if you have not received the notification yet.